Welcome to Galliano Studios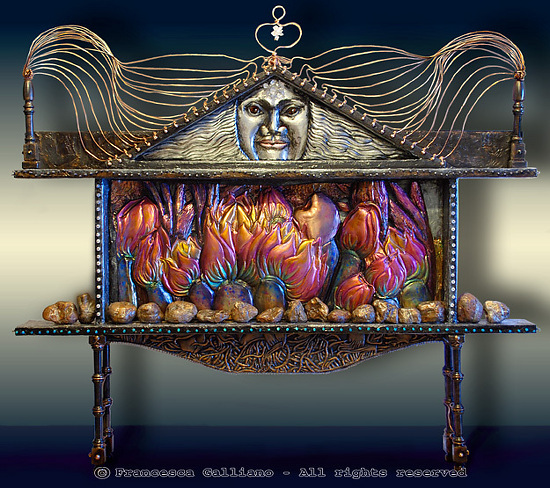 Between Heaven and Earth: In the Garden where Hopes and Dreams Dwell - View 3

Mixed Media Art that is evocative of nature and of a more spiritual life, made for seekers of inner power, joy, and authenticity. Its aim is to nourish the soul and expand the intellect.
Artist Statement
I use symbolic organic forms to create visual thythms as primary elements to explore nature-centered spiritual themes. To this end, I use an innovative process involving the unique fusion of woodcarving, metalworking, mixed media coloring and assemblage techniques. The mixed media coloring entails the addition of 20-40 thin, transparent and semitransparent layers that may include acrylics, inks, solvent dyes, flame, resins, , gels, mica flakes, waxes, lacquer and powdered pigments, metals and marble. The resultant piece exists within a sculpted environment that provides a context, completing the piece's statement, and acts as a frame.
Galliano Studios
14206 SW 136 Street
Miami. FL 33186
Phone: 305 256 8798 * Fax: 305 256 9138
10:00 AM - 5:00 PM (EST)
Images on the website have been digitally watermarked with ownership and usage information. Digimarc and the Digimarc logo are registered trademarks of Digimarc Corporation. The "Digimarc-Enabled" Web Button is a trademark of Digimarc Corporation, used with permission.